Morning y'all or afternoon as it so happens to be while I type this.
Oh my it's nap time at our house and let me tell y'all my kiddo is screaming his head off. I'm not sure why but all of a sudden nap time has become his least favorite thing in the world. It's a screaming fit until he finally passes out. I wish he wouldn't do this it breaks my heart a little every time but he's so tired and if he doesn't take a nap it's really scary to be around him. It's like a mini time bomb of grumpy waiting to explode on anyone who gets in his way. Everyone beware of Gbug if he doesn't get a nap. Anyway today is post #7 on Washington through my lens. Today we are going to take you on a looks see at Port Williams. We went down there to collect rocks so that my mom could teach Duke how to wire wrap them for necklaces or other fun things. He happened to make me a couple of them while we were there. So, come join us for a look at more water and awesome sand. Gbug is a lover of sand plus my niece Shaye was in a very happy mood that day. Plus we saw some awesome eagles while we were busy looking for rocks. You never know what your going to see when you look up.
Evidently he thinks he's the king of the world. I'm pretty sure I have like 10 or more photos of him doing this posse through out our vacation.
Cousins! She totally loves hanging out with Duke but she also equally likes to boss him around. It was pretty funny watching him smile at her and either do what she wanted him to or just smile and nod.
Isn't see so cute! She was being such a little ham.
We saw this beautiful eagle while we were enjoying the beach. He just was sitting there watching everything around him. It was awesome!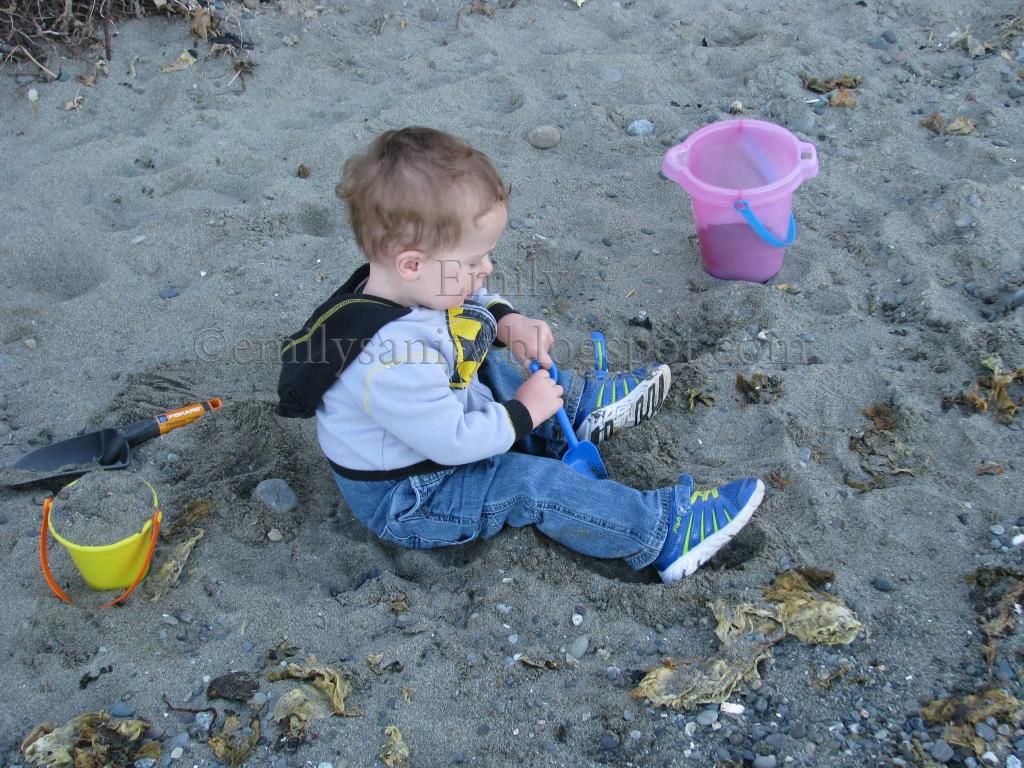 Here's our little sand loving little guy. He would fill his bucket up and then dump it and run farther down the beach just to do the same thing again. It was pretty funny.
She was my little buddy and I miss hanging out with her.
Throwing rocks in the water is totally awesome. At least that's how Gbug feels about it. I'm pretty sure that he slipped in a couple of times.
I told ya he loves this pose. I hope that you liked visiting the beach with us today. It's a beautiful area. Have a wonderful day.