Morning y'all! Today we are talking Christmas gifts. I know it's way past Christmas and almost onto Valentines day however, due to illness and family in town I never shared with you this fun gift that we made for my nieces and one nephew for Christmas. Plus my kids made their own with their Grandma. So, today I want to show you the cute pillow case and monster that we made for one of my nieces. In the hubs family we have decided to let the kids draw names for Christmas and then we exchange them on Christmas Eve. So, this year we had mostly little girls since that's what the majority of kiddos are on my hubs side of the family and one little guy. So, my mom helped me come up with a fabulous idea for them all.
Isn't that pillow case so fun and that monster so cute! We made four of these for three girls and a little boy. It was a blast. My mom already had the monsters pieced together so we just stuffed them and finished sewing them up. However, we did the pillow cases together and they were so easy. I'm going to be making some more for my kids beds and for our new bedroom.
You can find the tutorial for the pillow cases here. As for the monsters I think my mom saw an idea of them and then came up with the pattern or she might have purchased it somewhere I'm not sure. Sorry she couldn't remember. So, of course we had to make some of these with all the boys. Who wouldn't want their very own Grandma Monster. ( that's what my boys call them) They had a great time picking out the fabric for their faces, eyes, body, face etc... It was so funny to watch them do it. We never thought they would be such a big hit with my older boys but they had a blast. Here's how my kids Grandma monsters turned out.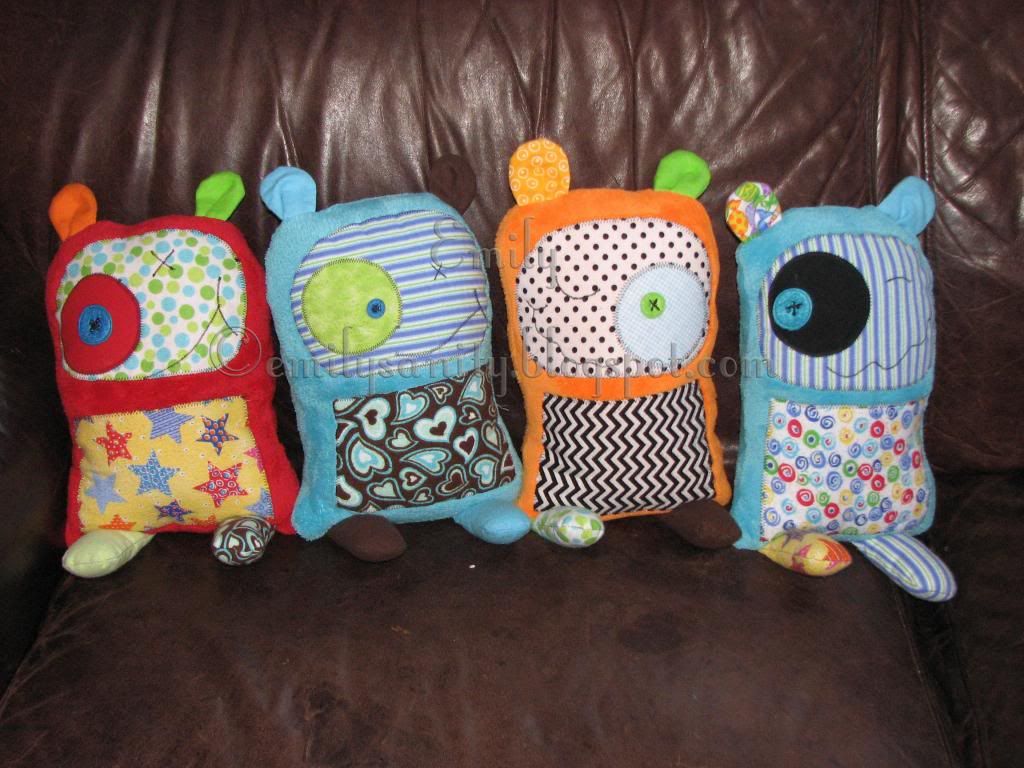 Aren't they so cute! I just love how different they are and how they so speak of my kids personalities. My mom did have all the fabric precut and the wonder under put on the bodies and faces before she got to our house. That saved us a ton of time. Here's a closer look at a few of the monsters.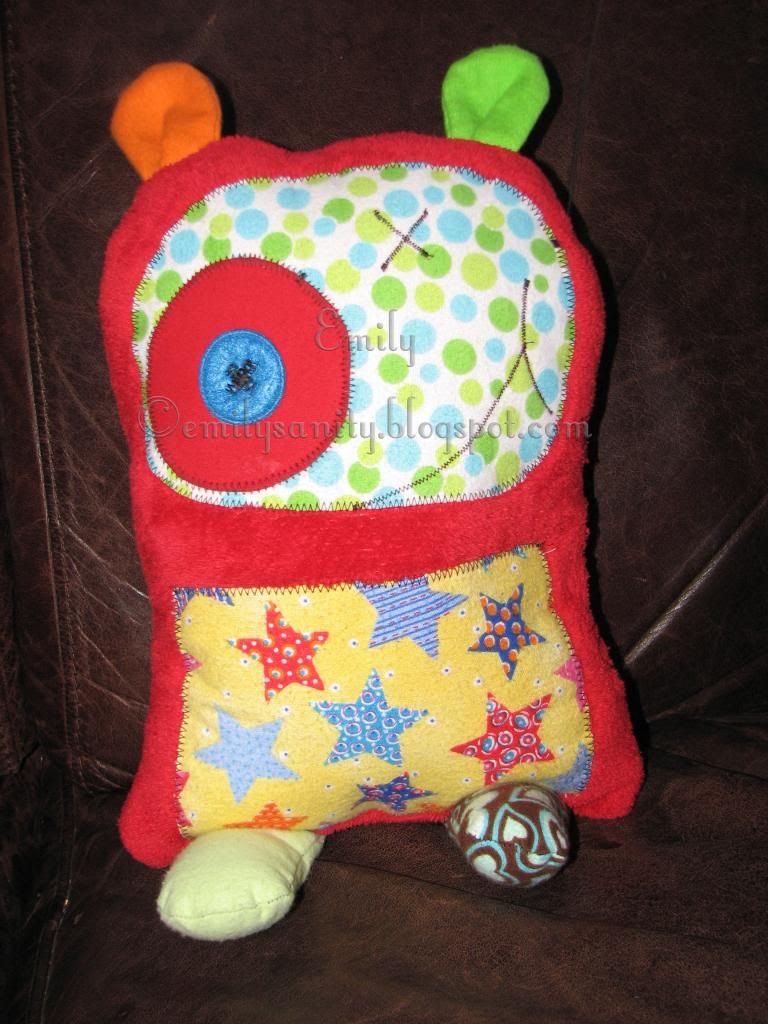 My Duke decided that his monster needed a curvy smile. It turned out really cute!
They don't love their Grandma monsters or anything? :) It was so fun to make both the pillow cases and the monsters. We even made some for a couple of friends and for my other nieces birthday. Wouldn't the monsters be so cute if you made them a little smaller for a baby gift? Anyway if your looking for a great gift or a fun cuddly thing for your kids these two projects were a hit. Have a great day y'all.